Timberwolf® 2100 Wood Burning Stove
The Timberwolf® Economizer™ 2100 Wood Stove provides an economical solution to rising costs of home heating. This clean burning, cost effective stove delivers the reliable heat you need. Outstanding efficiency, a solid cast iron arched door and an impressive viewing area make the Timberwolf® 2100 stove a perfect choice for your home or cottage.
Outstanding 71.1% Efficiency Rating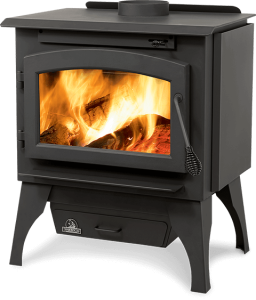 2100 Wood Burning Stove shown with optional leg and ash pan kit
FEATURES & OPTIONS
EPA Certified 2020
All stoves come standard with a fully refractory lined firebox and painted
black cast iron door
Conveniently located air control lever
Optional blower kit
Optional ash pan kit
Optional leg or pedestal kit
Optional Variable Speed Blower Kit
Optional Ash Pan Kit
shown with leg model stove
Optional Ash Pan Kit
shown with pedestal model stove
*Wolf Steel Ltd. own test results showing realistic BTU's using hardwood logs with regular refueling. Heat output will differ on chimney draft as well as type, moisture content and size of wood.
**Figures may vary with individual conditions such as floor plan layout, insulation value/heat loss of the house, geographical location and firewood used.